one of the most satisfying things about my trip was the art galleries.
i made it a point to visit at least one contemporary art gallery in every country and place i visited
and by doing that i stumbed upon on land mine of extraordinary artists that i would not have discovered if i was just sitting in my room in fitzroy, surfing the internet on my lappy.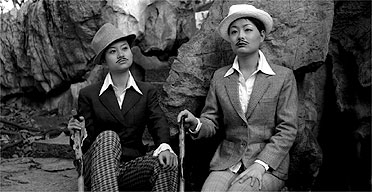 when i was in antwerp, i went to MuHKA
unlike some contempo places i've been which have been a crash of warhols and political rock sculptures
MuHKA's permanent collection focused human connection, emotion and mortality
it was very thought provoking
and there was this bit called
shangART,
where there was a space dedicated to a few of Shanghai's most talented and important artists.
this is where i first saw Yang Fudong's works.
they are really really great.
nostalgic.
evocative.
melancholic.
surreal.
tick, tick, tick, tick.
and when i got back to melbourne
i was reading suzie bubble's blog and found out
he did a
video
for prada. wowsers.